By Pete Gray
Every trip to Katmai Lodge brings something special, and this one was no exception. This trip was hosted me and Harold Davis from Davis Boats.  We spent our first night in Anchorage and boarded a charter flight to Katmai Lodge the next morning. It's about a 1 hour and 15 minute flight and we landed right at the lodge on their gravel runway.  We grabbed a quick bite to eat, met with our guides and hit the river.  My fishing partner was Pete Giacalone from Kusler Yachts, and we fished with head guide Jeff Topp.  The rest of our group paired off with their guide as well.     The personal attention at Katmai is like no other, your guide is not only an expert fisherman and teacher, he acts as your personal butler catering to every need you have while fishing, including cooking a fabulous hot lunch every day on the river.  Most days we ate a sockeye salmon right out of the Alaganak River, but you can also have burgers and other great choices. Your guide helps you get set up with all the gear including waders, boots and tackle, no need to bring anything but a rain jacket.     With small groups and very comfortable accommodations- most in our group had their own room! Years past, Katmai Lodge would take 65 plus anglers, now they limit to a maximum of 32. This makes the lodge, fishing and dining super comfortable for everyone.     With fantastic fishing and wildlife viewing- there is something for everyone at Katmai Lodge.  A trip to Brooks Falls is a "National Geographic" experience to see brown bears grabbing salmon from the falls just a few feet away.  Spectators fly in from hours away to view this, but it's a short 20 minute flight from the lodge on their own Otter float plane.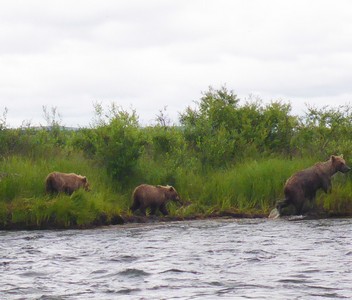 Our first fishing day was fantastic, limits of tasty sockeye salmon and several king salmon. We caught the sockeye on 8 weight fly rods, but you could also choose to catch them on spinning equipment, all provided by the lodge. The king salmon we caught using light Shimano Spirex 4000 spinning reels matched with a G-Loomis rod. Using Rapala type crank baits our method was cast and retrieve, but you could also back troll for the kings on level wind gear. The thing that excites me most about all the fishing on the Alaganak River is it is a participation sport. You can spend the whole time with a rod in your hand actually catching fish! That evening the group shared similar stories of limit fishing and a great day on the river. We were treated to a fantastic dinner prepared by Chef Sean and then off to get some rest for the next day's adventure.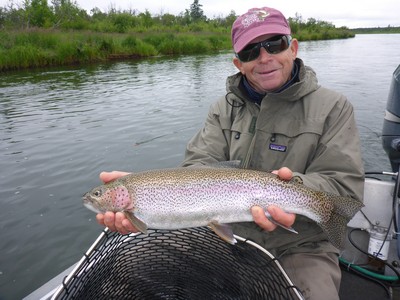 Pete and I choose to fish for the famous Alagank rainbow trout on day 2. Our guide Jeff took the "upper beat" of the river know as "The Braids" and the craft of choice that day was a Yamaha Outboard powered jet drive boat. We ran several miles up the scenic river and caught several rainbow trout on "mouse" patterns…yes a fly that look like a mouse that you skid along the surface of the water. It's a lot like surface iron fishing for yellowtail with explosive takes…so much fun. By Alagnak River standards, our trout fishing was a little slow, but we did manage to catch and release many fish for the day on the "mouse"…all super tough native Alaskan rainbows. The treat of the day was the many brown bear sightings we had, we saw over a dozen bears including a mom and her 2 cubs hunting the shoreline for salmon. We watched them pounce on their prey and actually connect sometimes with a fresh fish lunch! Amazing sights right before our eyes. The bears obviously could have cared less we were watching the show as they were intent on eating. We ran all the way to the top of the Alagank where it starts with two rivers coming together from opposite directions…such an incredible sight. Guess you figured out by now, Katmai is so much more than just great fishing, you see sights in nature that are truly incredible. The next day part of the group fished the morning then took Katmai's own float plane to the famous Brooks Falls to watch the bears catching fish from the waterfall right before their eyes. I have done this trip before and it is amazing. Pete and I choose to go sockeye and king salmon fishing again, and though our day was a bit slower than the first, we caught a bunch.

We saved the best for last for our 4th and final day on the river, and choose to go trout fishing again. We caught a few on the mouse, but figured out the salmon wanted the "flesh" patter fly that day- a fly that looks like a piece of salmon flesh to imitate dead salmon breaking down in the river after the spawn.
We caught some true trophies this day, including both of our personal best trout up to 25 inches and 6 pounds…then we switched from fly rod to spinning rod throwing Panther Martin lures and absolutely hammed the big trout, chum salmon and king salmon…we had constant double hookup and lots of laughs. What a day! On our trip, Let's Talk Hookup listener Gary Hittle joined us along with his wife Linda and their 14 year old grandson. As we awaited our departure flight from the lodge, Gary told me he sees Katmai as the "Total Experience", with a wide variety of fishing opportunities that would make novice or expert anglers ecstatic. Gary commented that he had more fishing time than any other trip he has ever experienced, with a rod in his hand catching fish for as long as one would want. He was also impressed with the experience and knowledge of his guide…so much personal attention and very attentive…everything was taken care of including filet and vacuum packing your fifty pound box of salmon to take home.
Katmai Lodge is truly a special place with something for everyone. You do not need to be an expert angler or a fly fishing angler to catch a bunch of fish and fish of a lifetime. Conventional or fly fishing- your choice. Plus your guide will teach you all the tricks to make fly casting fun and easy. We had several in our group that never touched a fly rod before and caught all the fish their arms could handle. Most used both fly and convention methods, but some just wanted to stick with on or the other- it's your call. Katmai Lodge is so popular with our listeners, we have two different trips scheduled for 2018. The first is July 14 to 18, 2018 and would be similar to this years trip also hosted by Harold and Davis Boats.
The second trip will take advantage of the incredible trophy trout season and silver salmon run- August 25 to 29, 2018. This trip will be co- sponsored by Pete Giacalone and Kusler Yachts. All the sockeye salmon that we fish in July will be 70 plus miles up rivers and spawning- followed by huge trout eating their eggs. We will travel by float plane to access these rivers. The possibility of 50 fish days is not unheard of on fish over 20 inches. The bear viewing is also "National Geographic". Add to that the amazing run of silver (or coho) salmon and huge rainbow trout in the Alagnak River is again will be non-stop action.To book your trip and more details, check the "Trips" page at www.letstalkhookup.com or the lodge web site at www.katmai.com